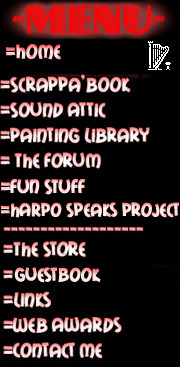 Magazines leaving the depot
I love seeing the most creative and fun sites that carry the best stuff needed for a newly obsessive fan. I wander the internet looking for diamonds in the rough; stories, photos, sounds, and expiriences you can find nowhere else.
Be warned, by clicking any link below, you will be leaving this website. You can be happy about that, but don't forget to bookmark this page to save you the trouble of searching for it again. It's possible that you might want to return here again!
History & Times

Musicals101 documents Vaudeville, with a small mention of the Marx Brothers. This site is very knowledgable about the history of the theatres in NYC, and gives help to tourists who may be travelling to theatres (local restaurants, theatre locations, etc.) When reading Harpo's autobio, this site helped alot (the quotes about The Palace were interesting).


Read about how it happened and the real voice behind Harpo Marx, and explore the true identity of (Adolph) Arthur Marx.BUY HARPO'S AUTOBIOGRAPHY, "Harpo Speaks!" and read the first chapter! (thanks to Amazon.com). By the expirience of being caught up in reading it myself at the moment, it's one book that you can't put down. Harpo tells the story in such a way that you never get bored, talking straight to you while giving references as he goes along. You even hear George Burns butt-in and comment about a few of the ordeals Harpo was involved in. So far, I've learned a few German and Jewish words, and how to have fun for free! It was amazing how hard it was for a kid who forgave easily and gave trust to anyone who came to him just so he could gain a companion, human or animal. Whether he was treated well by the people or not... well, you'll just have to read it, wontcha! As for reccommendations, I give 30 out of 30 black jelly beans for this book.

Stories

My Acid Trip With Groucho, is just what it sounds like. For the film Skidoo, Groucho wanted to be expirienced with what LSD was like, he ended up saying a few profound things, and the rest were silly. Paul Krassner tells of other profound Groucho quotes, including a Q&A seminar and a misunderstanding between Groucho and Nixon's goverment. I found it nice to hear Groucho's views on the 60s yuppie society, although it might not be for the kiddies to read. (*Harpo-less artical*)
Read about Allan Shermans run-in with his harp-playing neighbor. (a story on YOYFs main page was taken from the artical available at Marx Out Of Print)
To get to know Harpo better, visit Susan's Harpo Page. Girls, don't forget your tear-rags, this one choked me up a bit.

Picshs and Vids

Anicorn has many beautiful screencaps from Unknown Marx Brothers, Animal Crackers, The Cocoanuts, and more.
VIDEO of Harpo blowing smoke-bubbles in COLOR.
If it's a picsh you want of Harpo & Chico, this place has them by the mill! (avoid the animals running the joint, its a zoo in there)
Explore the many "picsh's", blinkies and polls at The Harpo Marx Site!

Marxist Sites

Are you feeling like your surface no longer shines and your heartstrings need readjusting? A trip to HarpoMarx.Net will certain make you feel like you're back to your ole marxist self again. Watch moving GIFs from Marx movies (including "Room Service" in COLOR!), watch videos of Harpo's harp solo's from nearly every film, and listen to Harpo speak (with his VOICE!!) on many occassions!

Have fun around the wacky world of Marx at MarxBrothers.nu! But watch out, the heavy graphics might be hard on those of you who have slow-moving computers.

Robert B. Weide brought you the Marx Brothers In A Nutshell doc video, and now brings you a webpage filled with photos of Marx relations and the heartbreaking story of the guy buying a fake harp. Caveat emptor!

And of course, every Marxist in the world knows about the Why A Duck? site. At WAD, I found a fun crowd of fans, alot of great sound clips, and my current desktop theme. There's alot more to the site than just that, but those are the only sections I've dared to venture into.