Concerning The Ruppert Mansion & Ehret Brewery...
I recieved an email from K. Jacob Ruppert, I posted it here so that you are able to get the complete facts. He also sent many articals and photos. If you are interested in the Ruppert Mansion, the orchard mentioned in Harpos book, and the Ehret brewery clocktower, please read on!

Dear Sir or Madam:

I discovered your wonderful website devoted to the Marx Brothers and the page within it discussing the Harpo Speaks! book. I am K. Jacob Ruppert (Jacob), great-great grandson of Jacob Ruppert, Sr. (1842-1915).

You are correct that the mansion belonged to Jacob Ruppert Sr. and also to his wife Anna Gillig-Ruppert (1842-1924). The house was completed in 1883 and was demolished in 1926 after its sale by their children to developer Samuel Minskoff (whose descendants are still in real real estate business today) who later sold it to builder Anthony Campagno to erect an apartment house that remains there to this day. Interestingly, I was consulted immediately before the printing of this book to confirm the epilogue of the the Ruppert Brewery Clock Tower, formerly the Hellgate Brewery Clock Tower. Regretfully, I was not aware of what I believe is a misstatement in the book as to the address of the Ruppert mansion. However, I have two theories explaining the error...

The first, and least likely, is simply a mistake by Harpo as to the back and front of the Ruppert property. The Ruppert mansion was located 1115 Fifth Avenue (now 1119 Fifth Avenue) on the southeast corner of East 93rd Street and Fifth Avenue, not at Park Avenue as Harpo remembers. It's facade faced Fifth Avenue looking out onto the Central Park Reservoir (now the Jacqueline Kennedy Onassis Reservoir) directly across the street. What I believe may be the misunderstanding is that although my great-great grandfather did have orchards ( a few trees, actually) in the vacant lots he owned behind the house (the Upper East Side was rather undeveloped at the time), the back property line was at or near Park Avenue (Fifth, Madison and Park Avenues are parallel). It is likely here at this southwest corner of East 93rd Street and Park Avenue where Harpo and his brothers got access to the property and committed their citrus stealth. Over time, I presume, the reference to Park and East 93rd Street was actually the location of the trees and not the house. Perhaps since Harpo and his family lived to the east of Ruppert's back property, closer to Park Avenue, he erroneously remembered the mansion was also on Park Avenue.

My second theory, and what is surely the most likely explanation, is that Harpo is remembering not the mansion of Jacob Ruppert, Sr., but that of his fellow brewer George Ehret, Sr. whose mansion actually did sit on Park Avenue and East 93rd, the northwest corner. Harpo speaks of both men together so he likely confused their addresses. Ehret's house too had fruit trees that can be easily seen in the foreground of the attached photo. In that photo (c. 1885, when Harpo was 5 years old) one can see the back of the Ruppert mansion in the distance (down East 93rd Street ending at Central Park) and the front of Ehret's Greek-Revival home at 1197 Park Avenue between East 93rd and 94th Streets. What probably fueled this confusion besides Harpo's advanced age in 1961 (he was 73 when he wrote the memoir) is that the Ehret's Hellgate Brewery plant, located between Third and Second Avenues and between East 92nd and 93rd Streets, was purchased by brewery neighbor Col. Jacob Ruppert, Jr. (Jacob's son) in April of 1935 (Harpo was 46 years old) when the Ehret sons (George Ehret, Sr. died in 1927), wounded by Prohibition and their father's resistance to bottling years earlier, packed up and moved to Brooklyn to operate on a smaller scale there. This more than doubled the plant size of Ruppert's Brewery, now standing as a behemoth from East 90th to 94th Streets. What people remember as the Ruppert Brewery in later years was actually, in part, George Ehret's Hellgate Brewery, including his famous clock tower that stood in place for over one hundred years. I find that it is more likely that our beloved Harpo was apparently remembering the mansion and orchards of George Ehret, Sr. and not his colleague and friend, Jacob Ruppert, Sr. Ruppert and Ehret were close friends whose families even intermarried. Jacob also gave the middle name of Ehret to one of his sons.

Col. Jacob Ruppert Jr. lived in his parent's mansion until 1925, about 18 months after his mother died. He moved into an apartment across the street where he remained until his death in 1939. Actually, other family members had apartments in the same building up until 1991. Jacob Jr.'s apartment is now owned by Paul and Joanne Woodward-Newman. Yes, he had an estate on the Hudson River in Garrison, NY, complete with a commanding view of West Point across the river . It is now St. Basil Academy who so kindly let me visit frequently as his estate sold it to them in 1944. As a young man, my late father was its last resident during the war years.

If I may, your "theory" is incorrect vis a vis the Jacob Ruppert Brewery. Actually, Col Jacob Ruppert, Jr. (1867-1939) took full control of the brewery in 1915 upon his father's death and further launched it to even higher success and notoriety, enough to fund massive Manhattan real estate interests (like Ehret did) and maintain his purchase of the New York Yankees, a team that remained in the Ruppert family until 1945. Yes, the brewery did later decline but only after the death of Jacob Jr (1939) and his brother George (1948) when a host of issues ripened including internal family disputes, aggressive moon-promising developers, union problems and, most of all, competition with national brands from Milwaukee (we were still considered a regional brewery). Eventually, its control eventually rested with a son-in-law of Uncle Georgie's who lacked education on beer or the brewing industry. In the end, the value of the plant and the land beneath it exceeded his desire to run a brewery, so his immediate family's narrow margin of stock ownership forced the sale to a property management company deeply disappointing many other Ruppert descendants. The plant was razed in the late 1960s and in 1973 became the Ruppert, Knickerbocker and Yorkville Tower Apartments, a 3000-apartment development complete with its one-acre Ruppert Park. It remains a monument to Ehret and Ruppert to this day.

As for the Ehret-Ruppert Clock tower, it was ardently pursued by historians to be preserved by the city and was on the verge of such protection until, to the further despair of Ruppert and Ehret descendants as well as the warm-hearted residents of Yorkville, it was burned by vandals as it sat in the vacant lot of the brewery surrounded by chain link fencing.

I hope this information will be useful to you and your website-fans. Should you think that I could be of further service, I hope you will contact me.

Again, I enjoy your website.

Sincerely,

K. Jacob Ruppert
New Orleans/New York

(Copyrights of photos are as written.)

Back of the house (1886)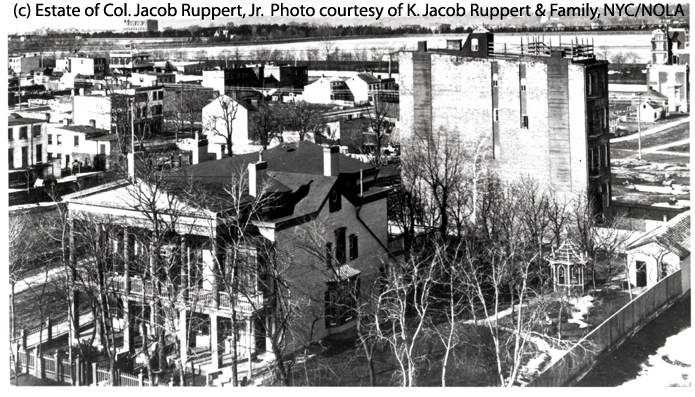 1115 Fifth Avenue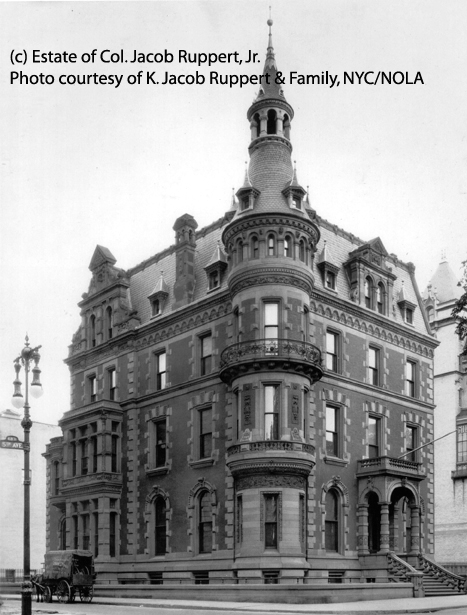 Details on what happened to the property.


What happened to Rupperts (Ehrets) brewery clocktower: