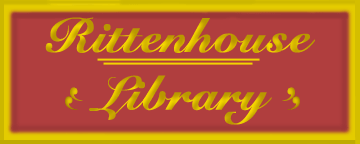 This is the Gala, the place we keep the paintings on the walls you see here, there and everywhere. Dotted all around this magnificently big room. It reminds me of the Red Room in the White House, but this room has a fancier name. It was named after Mrs. Rittenhouse's library, where the famous Beaugard once hung. His picture I mean. This entire library room is full of paintings and crafts that resemble Groucho, Harpo, and Chico. As you peruse the paintings, mind the left-handed moths. Please conceal all articles of clothing and other items which are made of cloth, it might not be there when you exit.
If you'd like to leave a comment about any of my artwork, or see more of my artwork, please visit my gallery at Deviant Art and post a comment there. Critiques are encouraged. Thanks!
Images that say "Click for full image" will take you to my art gallery at DeviantArt to view them, and the rest of them are at this site. It's an attempt to save webspace.
____________________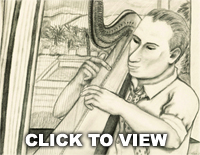 Name: Early Morning Rapture
Desc: I think this is my first good version of Harpo playing the harp. He's shown at home in his bay window, playing to the mountains. I used many reference photos of Harpos house on El Rancho Harpo that were on the internet, but none of them shown the window view, so I had to glue together the pieces of what I thought the yard from the bay window may look like. The drawing below called "Playing To The Mountains" was what I pictured the scene to look like (without researching it) from the scene in the book, but this I believe is as near to the real thing as I can get. Under the window was a stage-like platform that encircled it, I think he put his harp up there and would play from up there so that he would be level with the window and could look outside while he played, as pictured here. This drawing sat unfinished for nearly 1 year until his 116th birthday when I kicked into gear in order to finish it. I plan to make a second view of this scene, with just his silhouette.
Tools: tech pencil (Nov 24, 2004)
____________________

Name: Child-like Imp
Desc: Captures the true Harpo Marx.. child-like, innocent, and a bit impish. Whether this is a portrait of Harpo himself or his troublemaking character (lovingly referred to as "Patsy Brannigan"), I do not know. The wig and costume are based on the Marx Brothers film "The Cocoanuts" (1929) in which I think Harpo looked his youngest . I love his wig in that film.
Tools: tech pencil (june or july 2004)
____________________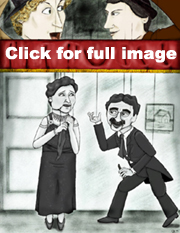 (click to view the drawing on my gallery page)
Name: Marx Brothers with Marionettes
Desc: Harpo pretending to be a silently-shocked Margaret Dumont, and Chico mimicking Groucho's long speals of giving insults and confessing his love. I thought of this because I heard that Zeppo played Groucho's part sometimes in the theatre plays, so that was most of the inspiration, playing with the thought of how silly Chico and Harpo could make Groucho and Margaret's love-scenes look. Plus, after creating a few other drawings of a marionette (Malachite) and that they sell actual marionette dolls of Groucho in real-life, the only thing left for me to create was what Margaret would look like as one. This was a fun drawing to mess with, loved creating this one.
Tools: ballpoint pen, tech. pencil, photoshop7
--------------
Name: Gin At 5AM
Desc: I did this one for giggles! While reading "Harpo Speaks", Harpo kept referring to Alexander Woollcott as an "owl". Being an anthro artist, to me, this was a calling! The drawing is based on a photo by Richard Carver Wood from "Harpo Speaks", showing Harpo (raccoon, left), Charlie Lederer (prairie dog, center), and Aleck Woollcott as an owl. This was a joy to create, and took me two weeks, because I wanted it to be perfect. The painting on the wall is a slightly-altered copy from a tile-painting by Rita Pots that I found on a website, (being the croquetmaniacs they were, it seemed like something they'd hang on a wall). Though, I wasn't sure if this was on Neshobe Island or at the Algonquin hotel room, I threw in an Algonquin hotel napkin on the table anyway. You'll also find real 1930s newspaper articles from the New Yorker and New York World (thanks to eBay), which substitute the cribbage boards that sat on the table in Wood's photo (simply because I didn't know what cribbage was, and the blurry photo didn't help). Also thanks to eBay for the 1920s curtain designs on the window (which i had to replace because again the photo was too blurry), and copies of Aleck's books "Long, Long Ago" and "While Rome Burns" lay on the table. The scanned drawing may be blurry too, but the drawing in person is very clear. I'm not sure what card game they are playing in my drawing (since I left out the cribbage boards), but Gin At 5am sounded like a good name, even though if it looks like they are playing Gin since i never played it myself, (Gin could be referring to the drinks too, but not even the artist knows for sure.) and "5AM" refers to the window being dark and the fact that they look so tired. You can see a badly-scanned photo here of my reference picture.
Tools: Bic black-ink ballpoint pen (yep! can't get any cheaper than that, but look at the quality! haha) (3-7-2004)
--------------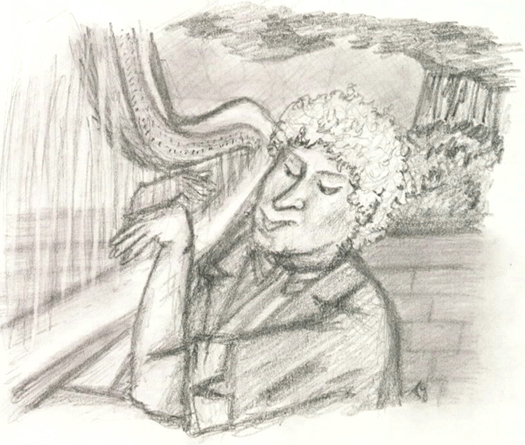 Name: Animal Crackers
Desc: Harpo playing 'Why Am I So Romantic' on his harp during the film Animal Crackers. I couldn't resist!! Took about 2 minutes to create while he was onscreen. At least he's getting to look more like Harpo as I progress. Sorry about that, I'm working on getting his face to look like him though. Ugh, I'm awful. The hands bug me the most, I'll work on that too.
Tools: tech. pencil (3-6-2004)
--------------

Name: Playing To The Mountains
Desc: "After the kids went off to school I felt like practicing an extra hour or so before shooting a round of golf, so I moved the harp out by the big west window. While I played, I watched our three mutts take their daily swim. The dogs climbed out of the pool, shook themselves, then ran off to look for the horses, to see if they could get up a friendly game of tag. The only sound was the sound of the harp. There was no wind outside. The nearest thing to any movement was the changing of the shadows on the mountains, as the sun rose in the sky. I was surrounded by peace."-Harpo Marx ("Harpo Speaks" pg.459) The uncolored version of this drawing I made into a bookmark for my copy of his autobio.
(Note: I do not know how to color mountains or scenery, and goofed by making Harpo look like Chico. I never seen his home or El Rancho Harpo. Based 100% on imagination.)
Tools: ballpoint pen, colored in photoshop7 (2-9-2004)
--------------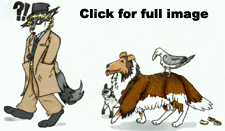 Name: Follow Me
Desc: I thought of this after reading "Harpo Speaks!", because he had a ranch in California full of pets. This is just a few of the pets he had, I didn't want the line of animals to overwhelm his figure. Many people describe Harpo as an angel who was put on Earth to see if he could take whatever life threw at him. Animals have better intuition about people more than people do.. and that is why they are following him with shining eyes and smiles. He was a man who loved anything a child would love dearly, he also acted like a child, but had the morals of a man to keep his feet on the ground. I hope to do more art inspired by him. The only pet name mentioned was of "Seigal" the arrogant seagull who was found injured on the side of the highway. Little did Harpo know that he'd be adopting a king who'd reside over Harpo's house and giving the dogs and the pool-cleaner alot of hard work. (After awhile, Harpo gave the troublesome and messy bird to his brother Zeppo, where he lived the rest of his days haha). The hamsters belonged to Harpo's daughter, he owned a collie at one point, and (I believe) the Siamese cat belonged to his wife.
Tools: Graphic pen, photoshop7
--------------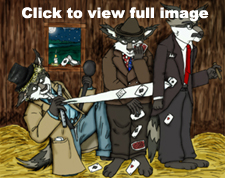 Name: Marx Brother Coons
Desc: Inspired by many of their films. "The Cocoanuts" had Harpo being able to take handkerchiefs out of peoples pockets, cleavage, etc. without them noticing, I thought that'd be a nice way to tie the picture together. "At The Circus" had Groucho with the magicians coat, pulling out magicians tricks from the pockets, and Harpo took a pigeon out of his pocket and let it fly out the window, Chico said "It must be a homing pigeon." and Groucho retorted, "Well, I'll keep a light burning in my pocket." Other films had Groucho use the reference, "I'll keep a light burning in the window", so I put one there along with a pigeon. In "A Day At The Races", they were in a barn and Harpo had his whistle which he carried around instead of his cane-horn that he used in all the other films. Lastly, there is the obvious "Animal Crackers" reference to Chico and Harpo's memorable card game with Mrs. Rittenhouse and Mrs. Whitehead, hence the aces of spades and aces of hearts littering the picture. Since the films were in black & white, I only had the VHS cover paintings on Amazon.com to reference from. I hope the colors are correct.
Tools: in graphic ink pen, scanned, then colored completely by hand in Photoshop7 (no paint buckets). (12-15-03)
--------------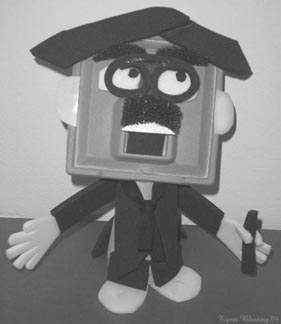 Name: Foam Silver-Screen Groucho
Tools: He's made out of black make-up sponges (brows/moustache), black rubber foam (pupils/hair/clothing/feet/cigar/glasses/mouth), thin white foam disks (teeth/ears), thick white foam disks (shoes/hands/eyes), a black ribbon (tie), and a grey felt plate thing (face) all connected to a cardboard cone with hot glue and tape. Everything on him is black, white, and grey, except the cardboard cone ..hence the name "silver screen." (1-11-02)

Groucho neck-tie "Fathers Day" card.
Chico as a lynx anthro, shooting the keys.
Anthro pic of Harpo and Irene Castle dancing on the Neshobe dock (photo ref. from "Harpo Speaks!")
Other Comedians & Vaudeville-related art

Buster Keaton with a locomotive

Buster Keaton portrait

Buster giving "The High Sign"

Buster laughing in "Coney Island" (who looks like Gene Kelly in this.. oops)

imaginary vaudeville theatre

vaudeville theatre during showtime (more about the onstage characters here)

"A Million Deaths Unwanted" (a poem about the decay of old theatres)